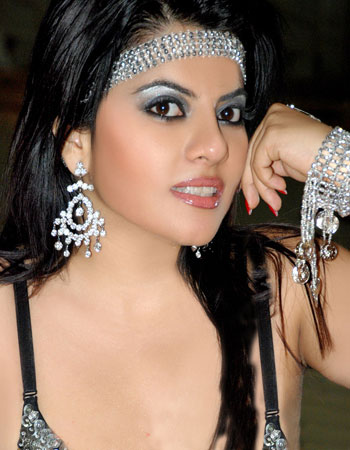 Shradha Rani Sharma is a distinguished celeb and a renowned personality in the field of dance and is also a good actress, who has announced her arrival with a show of exceptional skills and dazzling performances at various occasions. One of the most admired traits of Shradha is her positive attitude towards life.
Her approach towards life and work has earned her accolades from numerous co-workers and won her many good friends. She has always come out of the many controversies surrounding her and has proved herself to be honest and dedicated to her work. She is strictly professional and likes to maintain the congruent professional attitude with all her co-stars. Being a straight forward person has always been her strength and has also been a key factor in her success so far. Her close friends and associates consider her to be a very sensitive person and have many stories to share. She is considered to be a person who is innocent at heart . Her success mantra is to focus all her energy her career and to deliver only the best. On the whole Shradha Rani sharma is a focused, hard working and an honest person. Along with a great professional attitude, she possess the capability to win hearts of all her audiences across all age groups.
BACKDROP
Shradha Rani Sharma was born in Ahmadabad and brought up in Kathmandu and Maharashtra comes from a Gujarati brahman family.
WORK HISTORY
She started her career with numerous add films for popular brands like Dettol, Lizol, Mortein and others. She played the lead roles in TV soaps like Suno Har Dil Kuch Kehta Hain on sahara one, and Saarthi which was aired on Star Plus. . Shradha has also been a part of the southern film industry and done two Kannada Films named Jeeva, and Jaiho and tamil film maiyum kunte. Also, she was a part of Dance Reality Show raja maru rani yaru on sun tv..she did another dance reality show as a judge for big magic, reliance production.named mele ka big star.
One of the highlights of her career includes her participation in Big Boss season 5 as a contestant. One of the most memorable incidents during her stint in the show is when she made the hottest hunks of Bollywood, Salman Khan and Sanjay Dutt dance to her tune. She has become a very important part of event industry and has been associated with various promotional events for prominent brands like Pepsi, Phillips, Nerolac, Fiat Tyres, taj groups of hotels, country club..
Recently she was doing comedy show comedy classes which was a big hit among youth. Shradha Rani sharma is a household name today.
STATS :
Height: 5.5″
V.S: 38.28.38
Skin Colour: Fair
Love to: Dancing, Travelling, Shopping, Music, watching films, Driving sports cars.
Favourite colour: White, Sky Blue
Favourite adventurous sport: Parasailing
Quote: "LIVE AND LET LIVE"
Passionate About: Films, Fashion and Travelling
The Correct Spelling Of My Name?
Shradha Rani Sharma
Person I most admire:
Narendra Modi